Personal Care Services
Assistance with personal care is something we all return to later on in life. We began our lives by being taken care of and we eventually return, full-circle, to being taken care of again, in some form or another. Here, at Westbrook Gardens Senior Living Community in Purcell, OK, we implement our personal care assistance with respect and privacy, keeping in mind at all times the integrity of our residents.
Depending on your needs, the personal care services we offer include:
Incontinence management
Mobility assistance
Socialization
Assistance with all activities of daily living
Many individualized care services
Well-being checks
Monthly vital signs
Assistance with meals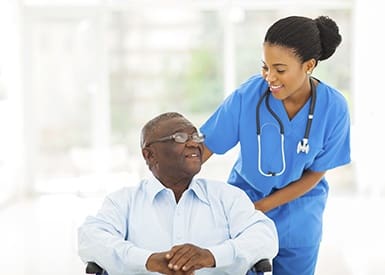 Compassionate Professionals
Setting the bar in the industry is what we do best, which is why our senior living community employs a staff of trained, licensed, creative, and compassionate professionals.
The main principles our staff and community live and work by are:
Teamwork
Self-motivation
A positive attitude
Integrity
Humility
When you're at Westbrook Gardens Senior Living Community, you're part of the family, which means you can have confidence in the level and quality of care we provide. You can also rest assured knowing there's a nurse either on-site or on-call, 24 hours a day, seven days a week. At our senior living community, we respect your need for independence and choice. We also find a great deal of satisfaction in taking care of you as if you were our own family, meaning we do our best every step of the way.